fuente: https://ellokal.org/comunicado-solidarixs-con-lxs-detenidxs-de-la-manifestacion-del-27f/
[CAS]
LA PRENSA APUNTA… Sobre las 8 personas acusadas de quemar un furgón policial.
El pasado 27 de febrero detenían a 8 de nuestrxs compañerxs en el centro de Barcelona durante una manifestación. Este hecho se enmarca dentro del conjunto de movilizaciones masivas convocadas en nombre de la libertad de expresión pero que han acabado asumiendo cada vez más la voz del disenso general hacía el periodo histórico que estamos viviendo. Una realidad asfixiante caracterizada por una violencia institucional sin precedentes, que deja a la mayoría de la población sin futuro y que absuelve y defiende a los criminales de siempre: policías, políticos y familia real.
A raíz de sus detenciones tuvieron lugar registros policiales en 2 casas del Maresme, con la intención de relacionar a nuestrxs compañerxs con supuestas organizaciones criminales inexistentes y con acusaciones desproporcionadas basadas en pruebas irrisorias. Nada de presunción de inocencia, el escrito de los mossos ha sido reproducido en todos los medios de comunicación, que lo repiten y asumen como propio. A su vez, el juzgado hace lo que ya estaba escrito: imputación muy grave y prisión provisional sin fianza. No le vemos otro sentido a todo esto que la finalidad de acabar con la ola de protestas que desde hace semanas crece de forma exponencial en toda Cataluña.
Denunciamos la manipulación informativa y el sensacionalismo de los medios de comunicación, que se limitan a proporcionar imágenes baratas de entretenimiento mediático y discursos de criminalización de las protestas. Como tantas otras veces se está utilizando la figura de los anarquistas y los antisistema como cabeza de turco. La prensa apunta y silencia las protestas como cortina de humo que tape a los verdaderos criminales. Por un lado está la policía, con su violenta represión que ha dejado múltiples heridxs graves y mutiladxs. Por el otro, las instituciones que dejan a millones de personas sin hogar y sin posibilidad de llegar a fin de mes.Finalmente, la familia real y los políticos que siguen robando impunemente. Ellos son los auténticos criminales, que no nos confundan de enemigo.
Lxs 8 compañexos del Maresme encarceladxs están muy animadxs porque saben que no están solxs. Como su grupo de apoyo estaremos presentes transmitiendo información, asegurándonos de que la solidaridad sea nuestro factor de unión. Agradecemos las colaboraciones y aportaciones antirrepresivas y lucharemos para poder abrazar a nuestros compañeros muy pronto.
Dentro de poco publicaremos una cuenta de banco para los gastos legales así como los datos de lxs compañerxs que deseen recibir correspondencia.
¡Os queremos libres ya!
Solidarixs con lxs detenidxs de la manifestación del 27F
9 Marzo 2021
[ITA]
La stampa punta il dito… sulle otto persone accusate di bruciare un furgone della polizia.
Lo scorso 27 febbraio 2021 venivano arrestati 8 dei nostri compagni in centro a Barcellona durante una manifestazione. L'accaduto si inserisce nel quadro di un insieme di mobilitazioni molto partecipate convocate in nome della libertà d'espressione che però hanno assunto mano amano di più la voce del dissenso generale verso il periodo storico che stiamo attraversando. Una realtà asfissiante caratterizzata da una violenza istituzionale senza precedenti che lascia la maggior parte della popolazione senza un futuro e che assolve e difende i criminali di sempre: polizia, politici e famiglia reale.
In seguito al loro arresto, ci furono perquisizioni da parte della polizia in due case occupate del Maresme (zona della cintura di Barcellona n.d.t.) nel tentativo di metter in relazione i nostri compagni/e con presunte organizzazioni criminali inesistenti e con accuse sproporzionate basate su prove irrisorie.
Nessuna presunzione di innocenza, la velina dei mossos d'esquadra è stato riprodotto su tutti i mezzi di comunicazione che lo ripetono e assumono come proprio. A sua volta il tribunale segue il copione conosciuto: imputazioni molto gravi e carcere preventivo senza cauzione. Non vediamo altro senso in tutto ciò se non quello di ottenere che cessi l'ondata di proteste che da settimane cresce in forma esponenziale in tutta la Catalogna.
Denunciamo la manipolazione informativa ed il sensazionalismo dei mezzi di comunicazione che si limitano a proporzionare immagini da quattro soldi di intrattenimento mediatico e discorsi di criminalizzazione delle proteste.
Come tante altre volte si sta utilizzando la figura degli anarchici e degli anti-sistema come capri espiatori. La stampa punta il dito e silenzia le proteste creando una cortina di fumo che nasconda i veri criminali. Da una parte la polizia con la sua violenta repressione che ha lasciato molti feriti/e gravi e mutilati/e. Dall'altra le istituzioni che lasciano milioni di persone senza casa e senza la possibilità di arrivare a fine mese. Per finire, la famiglia reale e i politici che continuano a rubare impunemente. Loro sono gli autentici criminali, non sbagliamoci di nemico!!
Gli otto compagni/e del Maresme incarcerati/e hanno il morale alto perché sanno che non sono soli/e. Come gruppo d'appoggio saremo presenti comunicando le informazioni e assicurandoci che la solidarietà sia il nostro fattore di unione. Ringraziamo per le collaborazioni e i contributi contro la repressione e lotteremo per poter abbracciare presto i nostri compagni.
Entro poco pubblicheremo il numero di un conto per contribuire alle spese legali e i dati dei/le compagni/e che desiderano ricevere posta.
Li vogliamo liberi subito!
Solidali con i/le detenuti/e della manifestazione del 27 febbraio 2021
9 marzo 2021

[ENG]
The press targets… About the 8 people accused of burning a police van.
On 27 February, 8 of our comrades were arrested in the centre of Barcelona during a demonstration. This event is part of a series of mass mobilisations called in the name of freedom of expression but which have ended up increasingly taking on the voice of general dissent against the historical period we are living through. A suffocating reality characterised by unprecedented institutional violence, which leaves the majority of the population without a future and which absolves and defends the usual criminals: the police, politicians and the royal family.
Following their arrests, police searches took place in 2 houses in Maresme, with the intention of linking our comrades with alleged non-existent criminal organisations and with disproportionate accusations based on derisory evidence. There is no presumption of innocence, the written statement of the Mossos has been reproduced in all the media, which repeat it and assume it as their own. In turn, the court does what was already written: very serious charges and pre-trial detention without bail. We see no other sense in all this than to put an end to the wave of protests that has been growing exponentially throughout Catalonia for weeks.
We denounce the manipulation of information and the sensationalism of the media, which limit themselves to providing cheap images of media entertainment and discourses of criminalisation of the protests. As so often before, the figure of anarchists and anti-system is being used as a scapegoat. The press is targeting and silencing the protests as a smokescreen to cover up the real criminals. On the one hand there are the police, with their violent repression that has left many seriously injured and mutilated. On the other, the institutions that leave millions of people homeless and unable to make ends meet, and finally, the royal family and politicians who continue to steal with impunity. They are the real criminals, don't confuse us with the enemy.
The 8 imprisoned comrades from Maresme are in high spririts because they know they are not alone. As their support group we will be present transmitting information, making sure that solidarity is our uniting force. We thank you for your anti-repressive contributions and we will fight to be able to hold our comrades very soon.
Soon we will publish a bank account for legal expenses as well as the details of comrades who wish to receive correspondence.
We want you free now!
Solidarity with the detainees of the 27F demonstration
9th March 2021
[FRA]
Barcelone: solidarité avec les détenu-es de la manifestation du 27F
mars 9th, 2021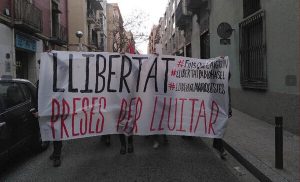 Communiqué : La presse désigne… A propos des 8 personnes accusées d'avoir brûlé un fourgon de police.
Le 27 février, 8 de nos compas ont été arrêté-es dans le centre de Barcelone lors d'une manifestation. Cet événement s'inscrit dans une série de mobilisations de masse appelées au nom de la liberté d'expression mais qui ont fini par assumer de plus en plus la voix de la dissidence générale à l'égard de la période historique que nous vivons. Une réalité asphyxiante caractérisée par une violence institutionnelle sans précédent qui laisse la majorité de la population sans avenir et qui absout et défend les criminels habituels : la police, les politicien-nes et la famille royale.
Suite à leurs arrestations, des perquisitions ont eu lieu dans deux maisons du Maresme, dans l'intention de relier nos compas à des organisations criminelles prétendument inexistantes et à des accusations disproportionnées basées sur des preuves dérisoires. Aucune présomption d'innocence, la déclaration écrite des mossos a été reproduite dans tous les médias, qui la répètent et se l'approprient. À son tour, le tribunal suit ce qui était déjà écrit : accusations très graves et emprisonnement provisoire sans caution. Nous ne voyons pas d'autre sens à tout cela que de mettre un terme à la vague de protestations qui, depuis des semaines, se développe de manière exponentielle dans toute la Catalogne.
Nous dénonçons la manipulation de l'information et le sensationnalisme des médias, qui se limitent à fournir des images bon marché de divertissement médiatique et des discours de criminalisation des manifestations. Comme si souvent auparavant, la figure des anarchistes et des anti-systèmes est utilisée comme bouc émissaire. La presse cible et fait taire les protestations comme un écran de fumée pour couvrir les vrais criminels. D'une part, il y a la police, avec sa répression violente qui a fait de nombreu-ses blessé-es graves et mutilé-es. D'autre part, les institutions qui laissent des millions de personnes sans abri et incapables de joindre les deux bouts, et enfin, la famille royale et les politicien-nes qui continuent à voler en toute impunité. Ce sont eux les vrais criminels, ne nous confondez pas avec l'ennemi.
Les 8 compas emprisonné-es du Maresme sont très encouragé-es car iels savent qu'iels ne sont pas seul-es. En tant que groupe de soutien, nous serons présent-es pour transmettre des informations, en veillant à ce que la solidarité soit notre facteur d'unité. Nous vous remercions pour vos contributions antirépressives et nous nous battrons pour pouvoir embrasser nos compas très bientôt.
Bientôt, nous publierons un compte bancaire pour les frais de justice ainsi que les coordonnées des compas qui souhaitent recevoir de la correspondance.
Nous voulons que vous soyez libre maintenant !
Solidarité avec les détenu-es de la manifestation du 27F
9 mars 2021
El Lokal
Carrer de la Cera, 1 Bis
El Raval, 08001 Barcelone
https://squ.at/r/3q2
http://ellokal.org/
---
Des squats à Barcelone https://radar.squat.net/fr/groups/city/barcelona/country/XC/squated/squat
Des squats en Catalogne https://radar.squat.net/fr/groups/country/XC/squated/squat
Des groupes (centres sociaux, collectifs, squats) en Catalogne https://radar.squat.net/fr/groups/country/XC
Des événements en Catalogne https://radar.squat.net/fr/events/country/XC
---
El Lokal, le 9 mars 2021 https://ellokal.org/comunicado-solidarixs-con-lxs-detenidxs-de-la-manifestacion-del-27f/