Fonte: https://zad.nadir.org/spip.php?article793
Flash Info
REMEMBER REMEMBER THE 6TH OF DECEMBER !!!
!!! Non dimentichiamo, non perdoniamo! No justice no peace, BASTA!!!
SBIRRI PORCI ASSASSINI – precisamente questa frase è nata il 6 dicembre 2008 dopo che la polizia greca ebbe ucciso un giovane attivista di 15 anni.
INFO in francese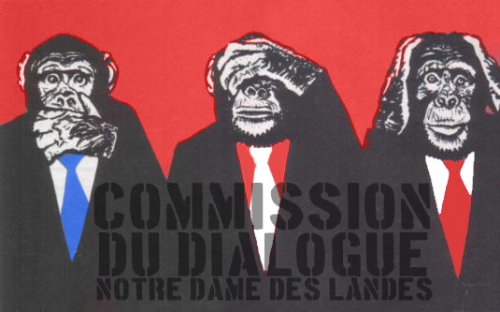 19:05  Nessuna notizia per quanto riguarda gli sbarramenti. A priori sembra che continuino le perquisizioni fino a quando non vadano via. CHI VUOL VENIRE CON DEL MATERIALE MANDI UNA MAIL PRIMA DI PARTIRE  🙂
Piccolo inserto per quanto riguarda  i controlli sulle strade: si tratta di una richiesta su istanza del procuratore fino almeno a sabato, dunque siate molto attenti. Riguarda i materiali infiammabili, carburanti e esplosivi e hanno delle deroghe per fare controlli d'identità all'interno dei veicoli. Se volete portarci questo tipo di materiale (e solo questo) mandateci una mail prima per avvisarci.
Un nuovo articolo da consultare regolarmente:
Gli aiutini dei Camille esterni sono gli aiuti che potete portare da casa vostra, secondo le vostre competenze personali e le nostre domande particolari…
Da ascoltare: Trasmissione Radio canu Lyon: reportage sulla repressione dei No Tav durante il rassembramento di lunedì a Lione
14:19  7 furgoni sarebbero partiti dall'hotel ibis di Treilliers direzione Paquelais. Sembra ci siano perquisizioni archeologiche verso la Stazione.

 13:58  Alle Ardillières non lasciano passare veicoli con materiali di construzione su pretesto di un decreto della prefettura. Questo decreto non esiste sul sito della Prefettura. APPELLO a tutti i conducenti che passano da lì: verificare ben bene l'autenticità dei documenti che i gendarmi mostrano!
Alla Paquelais i gendarmi sono partiti!
PER QUANTO RIGUARDA i decreti della prefettura  Se andiamo sul sito della prefettura e cerchiamo nei faldoni degli atti amministrativi, troviamo solo due decret:
Faldone degli atti amministrativi – Prefettura Loire-Atlantique – Normal n°104 del 30/11/2012 RAA HEBDOMADAIRE N° 104 NOVEMBRE 2012
Decreto n°2012335-0001 pubblicato al Normal n°104 del 30/11/2012 – Decreto del Prefetto del 30 novembre 2012 vertendo interdizione temporanea di trasporto di carburante –
Decreto n°2012335-0002 pubblicato al Normal n°104 del 30/11/2012 – Decreto del Prefetto del 30 novembre 2012 vertendo interdizione temporanea di trasporto di esplosivi, prodotti infiammabili, fuochi d'artificio.
Non si trova niente altro riguardante il trasporto di materiali…
… non molto trasparente questa bella "democrazia"!!! Ci sembra proprio che questo decreto non esista!

 13:02  Chi è vicino alla Zad e vuol dare una mano, è possibile a La Vache Rit dove si cerca di ripulire!!!
E si, lo diciamo fin dall'inizio: non ci riusciranno 😀 Notre-Dame-des-Landes: un'operazione poliziesca costosa e non sostenibile sulla durata.
APPELLO  Vorremmo sapere se esiste un decreto della prefettura sul trasporto di materiale di costruzione!!! Se qualcuno ci può aiutare, sarebbe super!!!
Lettura  Buon inserto su Notre-Dame-des-Landes fatto da Reporterre

 11:19  Alle Ardillières, perquisizione di veicoli!!! A parte quello, fa bello e freddo. Ovunque piccole formiche che si muovono in ogni senso, la zona sembra un formicaio  🙂
Video  Riassunto: secondo il sito Reporterre, lo Stato avrebbe manipolato le ciffre per dimostrare che la costruzione dell'aeroporto di Notre-Dames-des-Landes fosse finanziariamente più interessante del mantenimento di quello di Nantes. La prefettura smentisce.
Ecco la bellezza della ZAD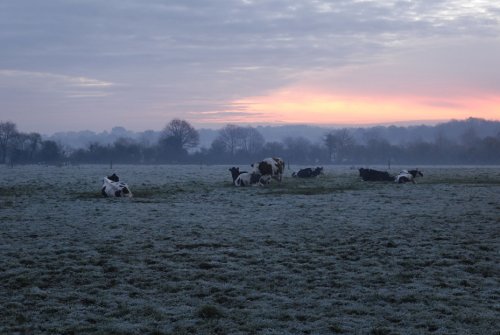 9:56  Alle Ardillières gli sbirri sono andati via (da confermare). Sono sempre, da giorni, alle Isolettes.
Da leggere [[No TAV] Lione sotto occupazione poliziesca e militare: gli Stati e la loro polizia lavorano – Lunedì 3 dicembre 2012 –> https://lechatnoiremeutier.wordpres…]
Benvenuti in Francia!

9:19  Arriva il sole, bellissimo spettaccolo… i campi gelati, la nebbia e il sole del primo mattino… da vedere  🙂 A parte quello, niente da segnalare, è l'ora della colazione e di riscaldarsi intorno ad un fuoco.

 8:26  Ancora calma, ma la zona puzza di sbirra, si tratta di occupazione militare contro occupazione militante, stipendi contro convinzione, coglioni contro tritoni!

 7:37  Buongiorno! Fa freddo, anche per i gendarmi alle Ardillières. Due furgoni vedono passare le macchine senza controllare. Lasciate stare, fa troppo freddo ragazzi!… nessun'altra segnalazione, il ché non vuol dire che non ci siano controlli agli sbarramenti, è solo che non ne siamo al corrente…