LA MANIFESTAZIONE DI RIOCCUPAZIONE AVRA' LUOGO IL 17 NOVEMBRE! Abbiamo bisogno di tutti per prepararla! In particolar modo, siete invitati ad affiggere i cartelloni ed a volantinare vicino a casa vostra.
For english translations of the Flash info see HERE All translated english HERE and here different other languages ITALIANO/ ESPAGNOLE ou resiste.squat.net/ NETHERLAND/ Infos in GERMAN
Potete trovare informazioni generali su come arrivare sul posto, foto e video, bilancio delle settimane passate, materiale da portare (aggiornato al lunedì 29 ottobre)…
Un accampamento è installato in un campo, tra la Vache Rit e la Rolandière (sulla D81 tra Les Ardillières e Vigneux). Cerchiamo dei tendoni (tipo circo), barnums o altre strutture. Cerchiamo anche stufe a gas/a petrolio, materassi e coperte. Avvisateci se avete roba da prestarci!
AIUTO/HELP: abbiamo bisogno di traduzioni in inglese, ma anche in altre lingue. Particolarmente i Flash info e gli appelli ad azioni decentrate. // We could need some help with translations in english but also in other languages, mostly for the flash info since sunday and the call out for decentralized actions !!!!! Thank you !!
APPUNTAMENTI
Appuntamenti quotidiani:

 Notre-Dame des Landes a partire delle 9:00 permanenza sulla piazza della posta (locali dei sindacati – angolo opposto al Municipio) per spostamenti sulla zona


Nantes a partire delle 10:00 vigilanza cittadina al Pont Morand


Nantes alle 19:00 adesso una sera su due: assembramento davanti alla prefettura (il prossimo oggi giovedì 8 novembre)

Rennes alle 18:00 tutte le sere si fa il punto alla casa dello sciopero
Vedere anche l'Agenda dell'Acipa
Per preparare la manifestazione per rioccupare, c'è bisogno di tanta gente: gli appuntamenti
Apuntamenti oggi:

Giovedì 8 novembre alle ore 20:00 a Saint Pourçain/Sioule (Allier): creazione di un comitato di sostegno Salle Ernest Maximin, 23 rue de Verdun, una riunione in vista della costituzione di un comitato di sostegno.

Giovedì 8 novembre a Saint-Malo, rassembramento di sostegno chiamati da "Les Alternatifs Pays de Saint-Malo", "Europe Ecologie les Verts Pays de Saint-Malo", "Gauche anticapitaliste 35nord", "Nouveau Parti Anticapitaliste Pays de Saint-Malo", "Parti de Gauche Saint-Malo".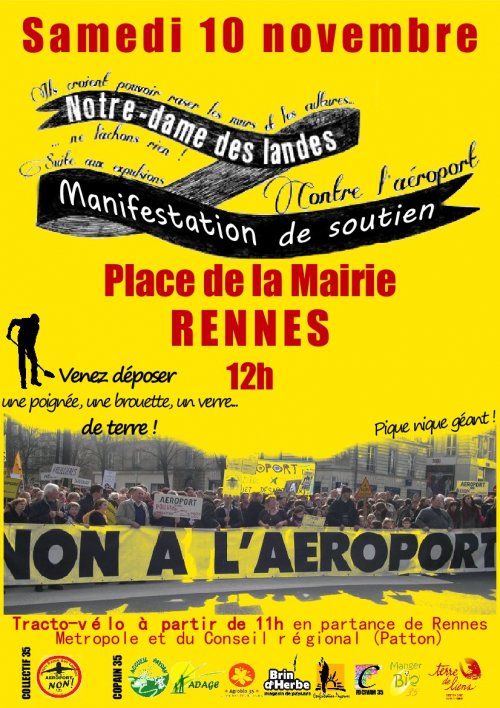 Una buona cartina geografica del posto.
Filo d'informazioni

 20:17  Chiudiamo qui per oggi, c'è festa da qualche parte nella Zad. Un giorno di riposo senza sbirri intorno ci ha fatto bene! Ma restiamo vigili per domani e ancora di più per la settimana prossima. Nel frattempo ci divertiamo anche a leggere i giornali, esterni al nostro mondo, francamente ci si diverte anche tanto: : "Il prefetto della regione, Christian de Lavernée, vuole distinguere "residenti, agricoltori che formano l'opposizione istituzionale, e gli attivisti  anarco-libertari, che hanno battezzato Notre-Dame-des-Landes, "il più grande squat a cielo aperto d'Europa"." Non sapevo che avessimo battezzato qualcuno, ma niente male il coso del "più grande squat a cielo aperto", complimenti Cristian!
plein des photos et Videos ICI, merci telecomix

 15:10 : Niente da segnalare, allora giochiamo, grazie Dubamix DUBAMIX "Notre Dub Des Landes" Dowload gratuito: dubamix.net Musique composée en novembre 2012 pour soutenir les opposant(e)s au projet d'aéroport à Notre Dame Des Landes

 13:32  E' ancora tutto calmo, meglio così. Personalmente direi che abbiamo vinto, numerosi luoghi sono encora occupati e non distrutti, c'è ancora un sacco di persone motivate a costruire…
Questa mattina sulla ZAd, come tutte le mattine, c'è gente in agguato, ma la situazione rimane di un calmo piatto… – oh no, dimenticavo:

10:27  Un furgone di sbirraglia è stato visto all'incrocio ad est della strada delle Fosses Noires.
Diversamente detto, tengono d'occhio le barricate del Farouezt, sapete, lì dove i blu e i loro lavoranti hanno messo ore ieri a smontare le barricate che sono riapperse appena hanno girato le spale…
se volete un po' di lettura, un articolo di Bob che relaziona cosa è successo ieri vicino al Farouezt.